Read full report of
Portobello Film Festival 2009 here




download report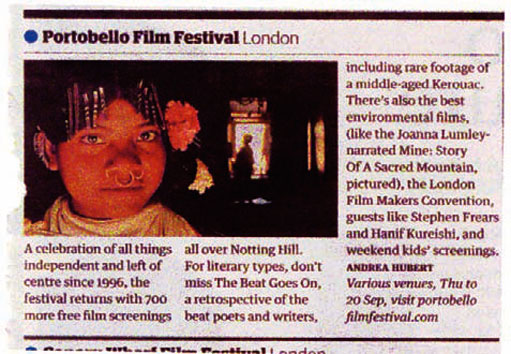 Portobello Film Festival 2009
Awards Ceremony



BEST DOCUMENTARY


I Voted Today (Al Alvarez, UK)



BEST COMEDY


Free Jolito (Marcos Bucay ,Mexico)

BEST SHORT FILM
Bagatelle (Ben Adler, UK)

BEST DRAMA
Todas (Jose Martret, Spain)

BEST CINEMATOGRAPHY
Pachamama (Toshifumi Matsushita, USA)

TIME OUT AWARD FOR
BEST LONDON FILM
Terry (Nick Nevern, UK)



YOUTH FILMMAKERS


Groove Roots (Groove Roots Crew, UK)



BEST FILM SHOWN AT THE VIDEO CAFE


Trailer for Rock and Roll F---ing Lovely



AUDIENCE AWARD


Captive (Gus Alvarez UK)



BEST FILM


Vermillion Souls (Masaki Iwana, France)

Full list of nominees will be published shortly




film of the
awards ceremony


Click here for Part One of Award Ceremony 2009

Click here for Part Two of Award Ceremony 2009


List of winners





Portobello Film Festival 2009
3 - 20 September 2009




Audience Delphinium


Awards Grove Roots


Delegate centre 2009


Dominic West


Uri Fruchmann


Volunteers 2009



Audience Westbourne studios 2009


Caribbean Corner


Hanif Kureishi


Street artists 2009


Streetopoly Zeus


Westbourne audience

Photos by Dorothee Thibault






Portobello Film Festival 2009
3 - 20 September



ENTRY TO ALL EVENTS IS FREE.


Welcome to the 14th Portobello Film Festival
Portobello's response to the credit crunch is NO ENTRY FEE.
Simply turn up and enjoy 17 days of non stop cutting edge cinema from the modern masters of the medium – unimpressed with bling, spin and celebrity culture, these guys have gone out and made their films, often on budgets of next to nothing, for the sheer thrill of it.
On the opening night we have a film from Joanna Lumley and Survival International, highlights from Virgin Media Shorts, and Graffiti Research Laboratories – last seen lighting up Tate Modern at the Urban Art expo. There's
more street art from Sickboy, Zeus, Inkie, Solo 1, BA5H and cover artiste Dotmasters in the foyer.

Download full programme (PDF)


2009 SCHEDULE





3 THURSDAY




GRAND OPENING
WESTBOURNE STUDIOS
6-11pm
full programme



4 FRIDAY




HORROR
WESTBOURNE STUDIOS
6-11pm
full programme

HOROWITZ
THE TABERNACLE 2
8 till late
full programme



5 SATURDAY




INTERNATIONAL
WESTBOURNE STUDIOS
1pm–11pm
full programme

FAMILY FILM SHOW
THE TABERNACLE
10-12am
full programme



6 SUNDAY




DOCUMENTARY & ECOLOGY
WESTBOURNE STUDIOS
1pm–11pm
full programme

FAMILY FILM SHOW & USA BEATS
THE TABERNACLE
10-12am
full programme



7 MONDAY




LONDON FILM-MAKERS
WESTBOURNE STUDIOS
6pm–11pm
full programme

YOUTH FILM FESTIVAL
INN ON THE GREEN
6pm–11pm
full programme



8 TUESDAY




LONDON FILM-MAKERS
WESTBOURNE STUDIOS
6pm–11pm
full programme

ANACHRON FILM CLUB
INN ON THE GREEN
7 pm–11pm
full programme



9 WEDNESDAY




LONDON FILM-MAKERS
WESTBOURNE STUDIOS
6pm–11pm
full programme

YOUTH FILM FESTIVAL
INN ON THE GREEN
6pm–11pm
full programme



10 THURSDAY




LONDON FILM-MAKERS
WESTBOURNE STUDIOS
6pm–11pm
full programme

YOUTH FILM FESTIVAL
INN ON THE GREEN
6pm–11pm
full programme



11 FRIDAY




PALESTINIAN FILMS
WESTBOURNE STUDIOS
6pm–11pm
full programme



12 SATURDAY




FREARS/KUREISHI & COMEDY
WESTBOURNE STUDIOS
1pm-11pm
full programme

FAMILY FILM SHOW
THE MOSAIC ROOMS
2pm-4pm
full programme



13 SUNDAY




SPANISH DAY
WESTBOURNE STUDIOS
1pm-11pm
full programme

FAMILY FILM SHOW
THE MOSAIC ROOMS
2pm-4pm
full programme



14 MONDAY




GERMAN NIGHT & VIDEO CAFE
WESTBOURNE STUDIOS
6pm-11pm
full programme


WOMEN IN PRISON
INN ON THE GREEN
7pm-11pm
full programme



15 TUESDAY




RUSSIAN FILMS & VIDEO CAFE
WESTBOURNE STUDIOS
6pm-11pm
full programme



16 WEDNESDAY




INTERNATIONAL & ENCOUNTERS & VIDEO CAFE
WESTBOURNE STUDIOS 19
6pm-11pm
full programme

PUNK NIGHT
INN ON THE GREEN
6pm-11pm
full programme

CARIBBEAN FILM CORNER
THE TABERNACLE
7pm-11pm
full programme



17 THURSDAY




FRENCH FILMS
WESTBOURNE STUDIOS
6pm-11pm
full programme

CARIBBEAN FILM CORNER
THE TABERNACLE
7pm-11pm
full programme



18 FRIDAY




US CINEMA & APPLE
WESTBOURNE STUDIOS 15–16
6pm-11pm
full programme

VJ MASTERCLASS & WORKSHOP:
REALITY CHECK
INN ON THE GREEN
12am-4pm
full programme



19 SATURDAY



Sat 19 Sept

DRAMA
WESTBOURNE STUDIOS
1pm-11pm
full programme

FAMILY FILM SHOW
THE TABERNACLE
10am-12am
full programme

WORLD CINEMA
THE TABERNACLE
1pm-11pm
full programme



20 SUNDAY




FAMILY FILM SHOW
THE TABERNACLE
10am-12am
full programme

WORLD CINEMA & AWARDS
THE TABERNACLE
1pm-11pm
full programme






FESTIVAL VENUES


VENUES AND MAP

Westbourne Studios
242 Acklam Road
London W10 5JJ

The Tabernacle
Powis Square
London W11 2AY

The Inn On The Green
3 Thorpe Close
London W10

The Mosaic Rooms
Tower House, 226
Cromwell Road
London SW5 0SW.





Subscribe free for updates and invites to special events (below).







Highlights of Portobello
Film Festival 2009




DOWNLOAD FULL PROGRAMME 2009 HERE


700 Free Films



At the heart of Portobello Film Festival are shorts and features that embody the state of cinematic art on digital formats, from international upcoming directors. Evenings are programmed into drama, documentary, comedy, animation, music, art, sci-fi & horror and World. They'll be non stop screenings at The Inn On The Green and Westbourne Studios, where there will also be a Video Cafe for films to be brought along on the night.

The Beat Goes On



Portobello Film Festival remembers the Beat Generation and their cultural legacy, featuring rare films of Jack Kerouac , Allen Ginsberg (his last show in London), William Burroughs, and the UK Beat poets and musicians. Curated by Michael Horovitz (New Departures magazine and 1966 Albert Hall Poetry Olympics), at The Tabernacle 4 & 6 September.

Saturday & Sunday Afternoons Family Pictures



As part of Portobello Film Festival weekends at The Tabernacle will feature the latest animations including 'Wall E' and 'Happy Feet'.

London Film Makers Convention



The London Film Makers Convention is a twice yearly opportunity for all London film makers, from the best production houses to DIY street video makers, to show their latest work to the public, meet up, attend workshops, socialise and network in an informal, exciting environment.

European Film Showcases



Portobello Film Festival presents 'Best Of' selections from partners in St. Petersburg, Munich, Madrid, Amsterdam and Dublin - film festivals & distributors, bringing the best of the latest European cinema to London. Last year the German, Spanish and Russian evenings attracted sell out audiences.

Youth Film Festival



Nick Marcq, who starred in 'Lock, Stock and Two Smoking Barrels', will be participating in the Youth Film Festival as part of Portobello Film Festival. His Latimer Films strand will be presented by Dominic West, star of US drama 'The Wire'. There'll be work by youth projects such as the EU Stranger Festival, First Light, Latimer Films, and YCTV.

Save The Planet



This year there will be a selection of environmental movies and strategies with carbon auditors, Julie's Bicycle, focussing on water.

Urban Art Strand



The Urban Art Strand will include live show and documentary GRL The First Season from New York laser artists Graffiti Research Laboratories , metal sculptures from the Mutoid Waste Company, and specially commissioned paintings from Sickboy, Dotmasters and Inkie.

Caribbean Film Corner



As part of a 2 day showcase for contemporary films produced by Caribbean filmmakers at The Tabernacle on 16 & 17 September, Horace Ove (Pressure) and Rudolph Walker will present an actors/directors workshop and screen one of Horace's recent works (17 September).

All this and more….



Stephen Frears & Hanif Kureishi speaking on filming Portobello, followed by a screening of 'Sammie & Rosie Get Laid'

The psychogeography of Portobello Road with Tom Vague

History Of Alternative GB cinema – Alan Clarke, Terence Davies, Derek Jarman and Bill Douglas

Demonstration by Apple on their latest editing systems.







The biggest celebration of
independent film in Europe




Portobello Film Festival
3-20 September 2009




This September the Portobello Film Festival returns to Notting Hill for its
14th year, and will showcase more than 700 independent films all for FREE.

Started in 1996, as a reaction to the declining state of the British film industry, Portobello Film Festival aims to provide a forum for new film-makers and give exposure to movies on different formats.

Taking place over 3 weeks from 3rd to 20th September; Portobello Film Festival 2009 will once again will be taking over the streets and venues of Notting Hill showing over 700 short and feature films - mostly by new directors submitted from all over the world. There'll also be talks and screenings brought to audiences from well known film directors including two-time Academy Award-nominated English film director, Stephen Frears (Gumshoe, The Grifters, The Queen, Cheri).

Entry to all events at the Portobello Film Festival is, and has always been, free. The festival exists to showcase this dynamic new digital art form, more accessible in 2009 than ever before thanks to more affordable equipment. According to festival organisers, film making is within everyone's pocket and no longer remains the monopoly of the underachieving mainstream establishment.

The heartbeat of the festival is the screening of over 700 new films from across the world – pulling people in from all over London and Britain plus Europe, America, Japan and even Africa and Australia, while providing a showcase in cutting edge culture for local residents. Guy Ritchie, Shane Meadows, Peter Seraphinovich and Sarah Gavron all got their first exposure to a wider public at the Portobello Film Festival.

Complimentary arts - painting, sculpture, music, comedy and poetry: usually from an urban perspective - are also presented and the brochure has featured covers by Andrew Logan, Jamie Hewlett, Banksy and Ralph Steadman, and in depth articles on local history and urban myths from Tom Vague. This year's cover is by Dotmasters.

Jonathan Barnett, Director of Portobello Film Festival, commented: "Thanks to the democratisation of filmmaking, we're seeing an advent of punk filmmaking in 2009. This is a hugely exciting time and I'm hopeful that this year's Portobello Film Festival will reflect this new creative spirit and energy. Some of the submissions from young people show an incredible verve and imagination.

"But it's not just about the new generation coming in; we also want to reflect on London's previous creative spirit. The Beat Goes On section, curated by Michael Horovitz, will chart the history of the hugely influential beat movement. He is undoubtedly one of our greatest living poets, and his curation of this strand of the festival will explore one of the most important and influential artistic movements of the past hundred years."






Portobello Film Festival 2009
3 - 20 September



FREE ADMISSION SINCE 1996



Check out a selection of Portobello films uploaded
by the directors themselves here

Portobello highlights from previous years: Punchdrunk, Mike Figgis, Magic Circle, Jamie Hewlett, Exceeda, Courtney Love, Pam Hogg, Anita Pallenburg, Sebastian Boyle, Greg Hall, Michael Horowitz, Megascreen, Red Dog, Freres Ripoulin, Cinema Tent, John Maybury, Colin Firth, Gordon McHarg, Earl Okim, Electric Cinema, The Paradise Video Cafe, Meanwhile Gardens, Emslie Hornimans Park, DJ Splackavelli, Joe Rush, Julian Marley, Tony Allen, Chris Cunningham, Objects Orchestra Of Leipzig, Russell Brand, John Malkovich, Westbourne Studios, 3D Spex.




CONTACT

Portobello Film Festival
Unit 11 Acava
54 Blechynden Street London W10 6RJ
020 8960 0996
pff@btopenworld.com



SUBSCRIBE!

Get regular updates on the Festival.