Portobello Film Festival 2018
30 August - 16 September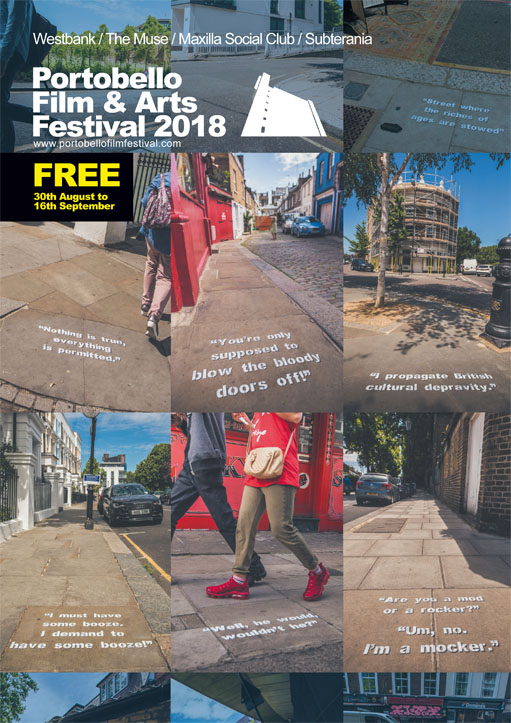 Follow the Portobello Film Festival live with all the film makers and celebrities
on official photographer Mat Buxton's Flickr feed here
THU 30 AUG

MAXILLA
6-10.30 PM
Opening Night
Highlights show, plus History Of Fire Brigade Union and Tin Pan Alley History
full programme


FRI 31 AUG

THE MUSE
6-10.30 PM
Eastern European Films & Spanish Films
full programme


SAT 1 SEPT

THE MUSE
6-10.30 PM
British & USA Films
full programme


SUN 2 SEPT

THE MUSE
6-10.30 PM
Spanish Films
full programme


MON 3 SEPT

THE MUSE
6-10.30 PM
Italian, Portuguese &
Spanish Films
full programme


TUE 4 SEPT

WESTBANK
6-10.30 PM
The Revolution
Will Be Televised
full programme


WED 5 SEPT

WESTBANK
6-10.30 PM
Rock And Roll
full programme

POP UP CINEMA (BAY 56)
6-10.30 PM
Julian Temple introduces
Absolute Beginners
full programme


THU 6 SEPT

THE MUSE
6-10.30 PM
Documentaries
full programme


FRI 7 SEPT

THE MUSE
6-10.30 PM
A Night Of French Films
full programme


SAT 8 SEPT

THE MUSE
6-10.30 PM
German Films
full programme






SUN 9 SEPT

MAXILLA
1-5 PM
Outside megascreen
w/ headphones
full programme

THE MUSE
6-10.30 PM
Dutch Films
full programme


MON 10 SEPT

THE MUSE
6-10.30 PM
Belgium Films
full programme


TUE 11 SEPT

WESTBANK
6-10.30 PM
Sci Fi/Horror
full programme

THE MUSE
6-10.30 PM
Films From Around The World
full programme


WED 12 SEPT

WESTBANK
6-10.30 PM
London Films
inc NFTS/BFI Showcase
full programme

THE MUSE
6-10.30 PM
Drama
full programme


THU 13 SEPT

WESTBANK
6-10.30 PM
Docs & Dramas
full programme

THE MUSE
6-10.30 PM
Films From Around The World
full programme


FRI 14 SEPT

SUBTERANIA
6-10.30 PM
Brief History of Carnival and
Lepke DBC tribute
full programme

THE MUSE
6-10.30 PM
Films From Venezula
full programme


SUN 15 SEPT

THE MUSE
6-10.30 PM
French Films
full programme


SUN 16 SEPT

MAXILLA
6-10.30 PM
Grand Awards Ceremony
full programme




A Second Song For Notting Dale could be the name for the 23rd Portobello Film & Arts Festival.

After the Grenfell tragedy – a stone's throw from our office – last year's Song For Notting Dale was a great success for the local community, and we were keen to expand it in 2018 with a season of shows at the Maxilla featuring our Launch Party, our Awards Ceremony, an afternoon of family movies under the Westway in conjunction with the Tavistock Festival and an animation workshop for local kids, complimented by Tom Vague's local history in the brochure: the Lancaster West Side Story.

Like at all Portobello events, admission is free and open to all.

Other highlights this year include a non stop programme every night at The Muse of the latest in International Cinema, and a showcase for the best in current UK film at the Westbank Gallery & Bar. You'll see tomorrow's films today and movies not to be seen anywhere else.

We pay a Tribute to Lepke DBC who DJ'd at many Portobello shows, at Subterania, and Portobello Radio present Julian Temple introducing local movie Absolute Beginners at the old Pop Up Cinema, hopefully available again for the whole Festival next year!
Art at The Muse stars the Salvador Dali Of Rave Junior Tomlin, Dr D and Chu otherwise known as Worship The Ground – this year's cover and poster designers – and the legendary Sickboy fresh from a successful San Francisco expo.
The centre pages of the brochure remember our film art wall on Portobello Rd between Golborne and Oxford Gdns about the pioneering, eccentric, radical, good humoured style of mainly North Kensington film that is celebrated at your annual free post-Carnival Festival.

Enjoy the "Frontline of film" at the Portobello Film Festival 2018.